Since 1898, flowers and plants have been sold at our location in West Toronto. Alfred Martin built the original greenhouses on the site in the days when the sidewalks were wooden planks. There were beehives in the back, and the family lived around the corner on Clendenan Ave.
Alfred's son Gordon constructed the store building in 1929.
Over the years, improvements and extensions were added. The storefront has been changed several times to keep up with modern times.
Gordon loved to have interesting displays in the windows.
Animals were a favourite. For Easter,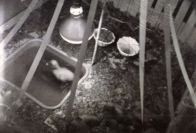 there would be cute little chicks or goslings. Once, there was even a monkey! Children in the neighbourhood always stopped by to see what was happening at Martin's.

Gordon died in 1950, and his son William (Bill) took over leadership at the store. For many years Gordon's widow, Mamie, answered the telephone and sent out the typewritten statements to customers.
Bill grew the business substantially.

He was always interested in new technology and new design trends, and loved to give demonstrations to neighbourhood groups in the shop after hours. He partnered with Nick Lye of Tidy's Flowers to open the first mall flower shop in Canada at Sherway Gardens. At one point there were four locations for Martin's. But the mall experience ended in 1988, and we have worked from this one location since then.

Bill Martin retired in 1995, and his daughter Lynn Freeman became the owner. As the owners of Hendrick's Flowers, Neal's Fashion in Flowers, Rose Florist, King Edward and Aberdeen Florists retired, Martin's worked with the former owners to transition their customers.
Lynn's son, Ryan Freeman, is the fifth generation of Martins to work in the business, and has been instrumental in setting up the website and technology applications.
Design styles have continued to evolve, and computers are integral to the shop. Now customers can receive email confirmations of their orders and have ready access to their order history. The business today is substantially different from the 1898 version. As Martin's serve their fifth generation of customers, they continue to focus on their strengths from the past: top quality flowers, plants and gifts; personal and friendly service; and excellent design.
At the Junction Arts Festival in September, 2008, Martin's celebrated our 110th anniversary with a Floral Fashion Show, Floral Sculpture and an interview with Martin's founder, Alfred Martin, as played by his great-great-grandson, Julian Freeman. Here's the video of the Fashion Show - it's a lot of fun. And following that was the interview with Alfred, which is also a video. Enjoy!