We paid a visit to the Canada Blooms show yesterday. What a breath of spring! The gardens were amazing… it only took a little imagination to picture yourself sitting in the sunshine in this peaceful place, with water flowing and plants growing and music playing… ah, can't wait!
But for us, the most important part of the show is floral design. So on this virtual tour, first we present the Professional Florists Exhibit: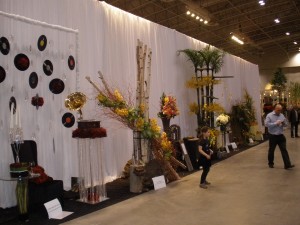 As usual, there was a terrific variety in the presentations. The theme of the show this year was Rhythms. And the show also honoured the Juno Awards, since this year is their 40th anniversary. So some florists used the Junos as their theme, others chose Rhythm, and some just did what looked spectacular.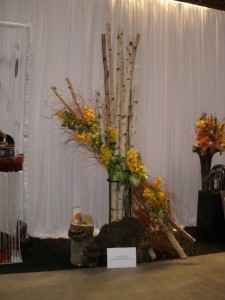 This one is by Ecostems. I am amazed at how many ways creative people can use birch!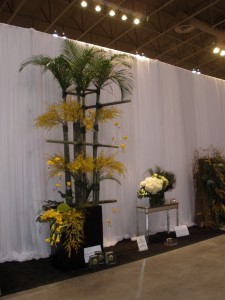 Yellow callas, lots of oncydium orchids and palms evoke a warm and sunny place. This is by The Flower Workshop.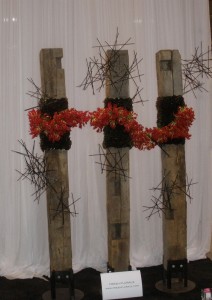 Here is a beautiful piece by Fresh Florals. Those are three wooden beams with a soaring melody of gloriosa lilies flowing through.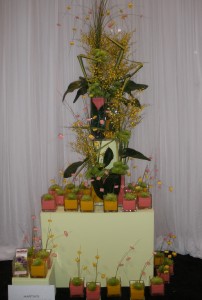 Here's our floral version of Rhythm. There's lots of repetition and staccato points, making it rhythmic indeed!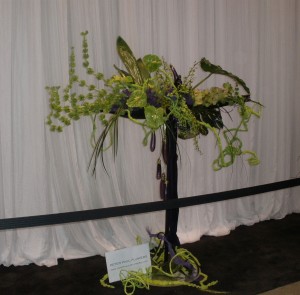 This is an interesting composition by Rada Ristich of Peter Paul's Flowers.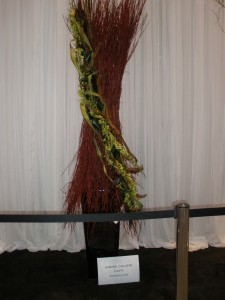 A lovely "uptempo" arrangement by Sabine Calame, CAFA.
Now to those creative people of the Garden Clubs. Their competitions are always interesting.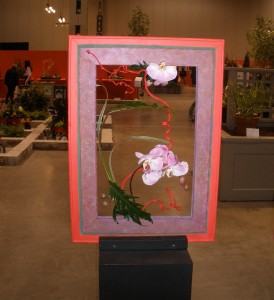 The category for this arrangement? It was to be enclosed within a frame, with an Art Deco theme. Beautifully executed by Sue Clarkson!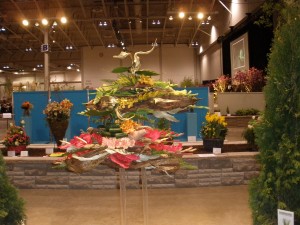 This one is a little hard to see with the busy background. It is two arrangements that seem to be floating in parallel. Very detailed work. Unfortunately, we didn't write down the name of the artist. Maybe someone can help us out?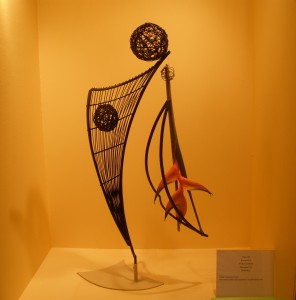 Is it okay to say "awesome" or is that word overused? This was awesome – simple and powerful. By Trudy Grantham.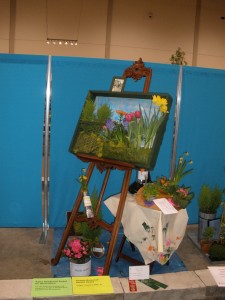 The theme here is "Artist's Studio." Once again, forgot to record the name of its creator.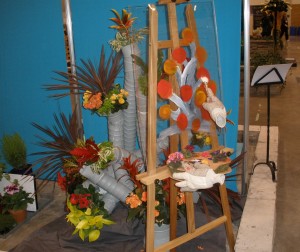 Here's another entry in the Artist's Studio category. Notice the gloves?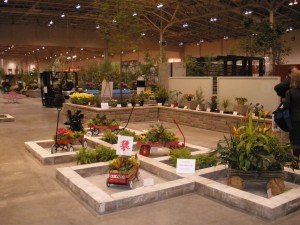 This category was "Portable Art." The arrangements of plants and flowers had to be in a wagon. Aren't they great?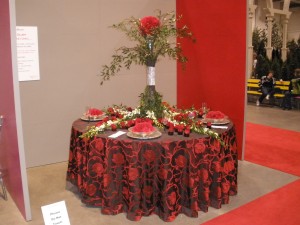 The Canadian Academy of Floral Art (CAFA) presented a Tribute to the Junos. Each designer set a table for the Juno winners of a certain time period. This design is by CAFA President, Derrick Foss, AIFD, CAFA.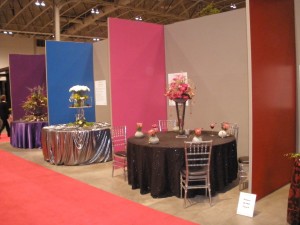 Some of the other settings by CAFA members. In celebration of the Junos, CAFA is presenting a design contest called Juno Blooms at the Fairmont Royal York on March 25th. That should be amazing!
Finally, we'll  leave you with a photo of the children's play area. Real sand and rocks and plants… the best toys! There were chimes to bong and a slide and climbing ropes. I'm sure this was a really busy area during the day.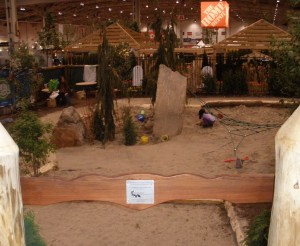 Once again, an inspiring show. The vendors area was full and busy, but we did not take photos. And the Pick Ontario display was just beautiful. Good things do grow in Ontario! We especially loved the mini orchid plants.
Canada Blooms is presented by the Garden Club of Toronto and Landscape Ontario. This is the 15th year of the show. It will continue until Sunday, March 20th. Go and see it if you can!