It's been a busy few days in the shop as we've been preparing Thanksgiving arrangements. Whether for homestyle dinners, nursing homes or fancy banquets, we have been making tasteful fall designs.
Let's begin the photos: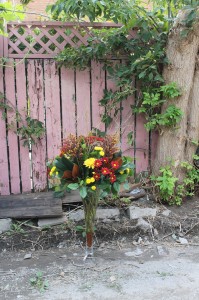 We love this photo – Susan had the inspiration to shoot it in the back lane. Who knew it would look so pretty?
Here's the same arrangement stretching the boundaries of our photo tent: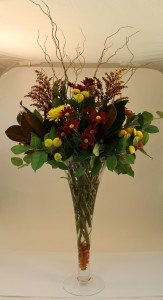 It's a little easier to see this way. This was for an elegant buffet dinner, so we didn't need to worry about people being able to see each other through it.
Harvest centrepieces are fun to decorate with gourds, cabbages, apples and even eggplant. Here is one with an eggplant (love that smooth, dark surface!) and artichokes: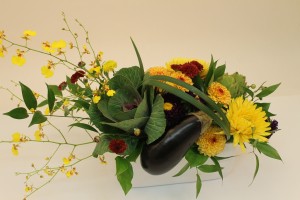 And here is a more traditional style centrepiece with lots of fall flowers and a funky gourd: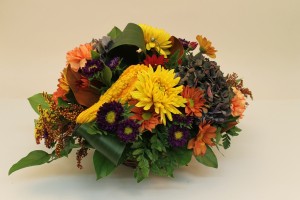 The blue-toned hydrangea from B.C. is just beautiful!
Let's end with this lovely shot of a wreath for a front door: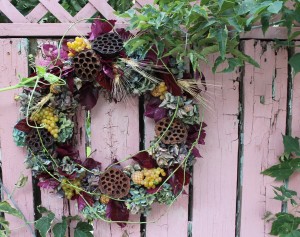 Svitlana used the B.C. hydrangeas, which will dry beautifully, and seed pods, celosia and dyed leaves. This will really bring the look of Autumn to someone's front entrance.