Check here for the Toronto Star Obituaries for funeral and visitation details.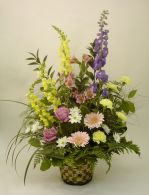 When you want to express your condolences, flowers are still the most eloquent way to do so. Fresh flowers speak of nature, of beauty, of love and of the passing of time.
Visit these resources for suitable gift ideas. Or phone us for personal assistance at 416-766-6121.
How to expresss sympathy with flowers
Spray Arrangements for the funeral home
Side Table sympathy arrangements
Gallery of Unique Sympathy Bouquets