When it comes to sending sympathy flowers, the task can be a bewildering one. The details can become nearly overwhelming during an already stressful time if you are a relative or close friend of the deceased. Or there may be questions regarding what is appropriate to send if you are a relative, or representative of a corporation wishing to express your regards to family members. Whatever the case, Martin's will be able to help you and put your worries at ease.
Traditionally, flowers have been sent on the occasion of a funeral to comfort the living and honour the life of the deceased. Lilies are often associated with funerals. However, customs change with time and it is now commonplace to send traditional arrangements (wreaths, sprays, side-table baskets) as well as modern floral tributes.
Circular wreaths, which symbolize eternal life, and standing sprays, which are one-sided arrangements, are both displayed on easels at the visitation and ceremony, making for a tasteful and elegant showing.Traditional sympathy arrangements remain popular and usually 
consist of a fan-shaped design of flowers in a container, which are suitable to accompany interment at a cemetery. Most traditional arrangements are made up of gladiolas or snapdragons accented by roses, gerbera, daisies and other seasonal flowers in addition to ferns and palms for greenery. These large arrangements usually range in price from $100, 150, etc. 
A casket spray, which is placed on top of the casket, is usually provided by the closest members of the family of the deceased. A beautiful casket spray is usually in the $250 - 350 price range.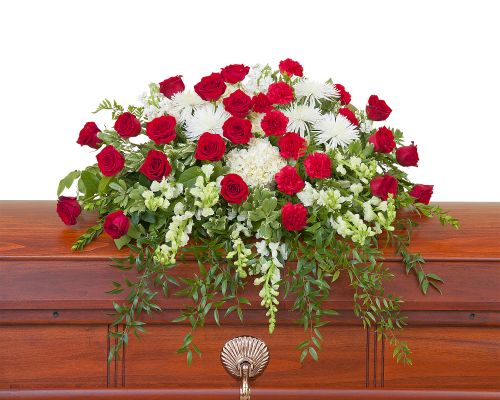 Smaller side-table arrangements of flowers are a thoughtful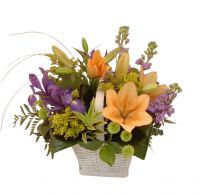 and economical choice, and well-suited for cremations and memorial services, as they can be taken home to be appreciated by family members afterwards. The price range for these designs is from $60, 75, etc.
No matter what style of arrangement, the customer has many options regarding the types and colours of flowers they would like to send. For ladies, light pastel shades of pink, lavender and cream colours are a lovely preference, while for gentlemen, more masculine hues of burgundy, red and gold are often requested. A timeless choice is an arrangement of roses in a colour loved by the person who has passed away.
Personalization can also be accommodated. If you know what the favourite flowers of the deceased were, a suitable arrangement will be created to reflect that fact. And remember, sympathy arrangements do not have to be "funereal" in nature. Bright, vibrant colours mark the joyous celebration of a life well-lived and unusual, tropical choices such as birds of paradise, orchids, ginger and anthurium are indicative of a growing trend toward more modern and stylish alternatives. Other ways of personalizing an arrangement include taking into account a person's hobbies (blue and white for a sailor) or the colours of their native flag, such as white and red for Malta or green, red and white for Portugal. See some custom funeral designs in this blog article. And check our Sympathy Gallery as well.
What to say on the enclosure card? Common salutations include "Our Deepest Sympathy", "With Condolences" and "Thinking of You", with a signature from an individual, family or business below. There is a list of alternate card messages in our Resources section.
Martin's will verify the details, such as the proper name of the deceased,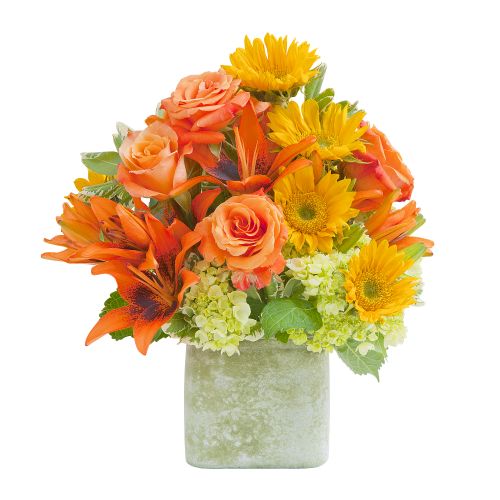 and the time, day and location of the visitation or service, by checking a published obituary or contacting the funeral home, to make sure your order is delivered in time to be on display.
A popular trend for consideration is to send flowers, plants or fruit baskets to the home of the family after the funeral is over to let them know you are thinking of them. Whether it is for a funeral, a memorial service, a wake, or reception, your gift of flowers will brighten spirits and surely be appreciated.
Need information on appropriate flowers for someone of another culture? Check this article: When are Flowers Appropriate? from Florists Review Magazine.