There is a long history of flowers being offered as a tribute to the deceased. These days, bouquets are often placed at the scene of a fatal car accident or a shooting. There was a large display of orange blooms at Toronto City Hall and at the constituency office of the late Jack Layton when he passed away this summer.  Temporary and beautiful, flowers speak of the fragility and brevity of our lives.
More comforting than a simple bouquet, larger arrangements are usually sent to a funeral home or church for the visiting period and memorial service.
Flowers comfort the family, and honour the deceased. Both those functions are important.
Today we want to look at flower tributes that are created to copy a symbol. There have been floral hearts and crosses for many years, and sometimes a service club like Rotary will have their emblem made of flowers for a deceased member. One of our more challenging recent tributes was a soccer club emblem.
There seems to be a trend to return to these customized sympathy flowers. One design we had not done in a while was the Maltese Cross. Since we're located in the West Toronto Junction, there are many Maltese clubs, and the St. Paul the Apostle Church, near us. So a Maltese Cross is a special design particular to our neighbourhood. Here is a photo of one:
This type of design is labour-intensive, but satisfying to create. It is especially meaningful to the family. And it certainly stands out in a funeral home filled with traditional arrangements.
This photo shows a traditional design, the Broken Heart:
If you would like to see photos of horses, dogs and people's names in flowers, done by an excellent florist in the UK, check this gallery on FlowerChat.
By the way, not all of these emblems are to express sympathy. One of our favourites is this design, modelling the new flag of independent Libya: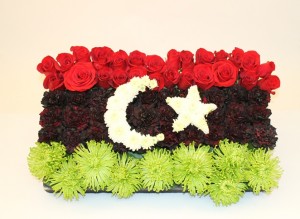 This arrangement came with a card that said: Happy First Free Birthday. It was her mother's first birthday as a citizen of free Libya. We get to be involved in some amazing stories.