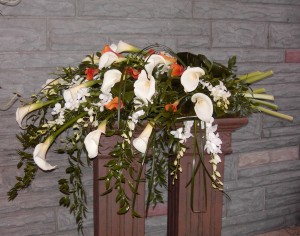 Our customer asked for a simple but elegant arrangement for her Mother's casket.  Susan designed this beautiful spray to look like a hand-tied bouquet. It is actually in foam, so there is a water supply and the flowers would not wilt before the funeral service.
The classic white callas are accented with mini callas in a rust colour (the variety is called "Mango").  Italian ruscus is the green that looks so effective with these elegant blooms. There is a graceful draping effect to the arrangement.
We find that more people want to choose flowers that reflect the individual who has passed away, rather than just choosing an arrangement from a catalogue. Although we do feature some casket sprays on the website, no one is limited to that selection. You can include favourite flowers or colours, or even mementos, in the casket spray.  Or choose a theme, like a wildflower or cottage look, or elegant and simple. Our designers are able to work with you to create a beautiful and fitting memorial that honours the memory of the deceased.