At the beginning of July I had the good fortune to attend the AIFD (American Institute of Floral Designers) National Symposium in San Francisco, a working vacation you might say. The theme this year was 'Imagine – Dream, Create, Share.' When I arrived at the hotel I immediately knew that I was in the right place. Flowers were everywhere. The colour scheme for the lobby flowers was red, orange and yellow.
Red anthuriums, monstera leaves and phaelonopsis orchids created a path along this wall mural.
This grand arrangement in the hotel lobby included eremurus reaching high.
The massive paveed base was made from incredible fresh product: roses, protea, anthurium, leucadendron, succulents, moss and orchids.
The Haight/Ashbury neighbourhood was the destination of the flower children of the 60s. This was a tribute to that district.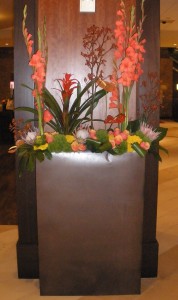 More gorgeous tropicals in this parallel arrangement.
After I settled in, I headed off to the Orientation Meeting for first-timers. We were given an enthusiastic welcome and a tour of the Symposium area. The lovely Julie Reed AIFD became my mentor.  The highlight of the tour was the 'Flower Room'. This was where all the masterpieces for the coming week were already under construction. I anticipated an inspiring week ahead.
To finish the day, there was a reception for the student competition. My colleague Katie participated in this event. All the student designs were on display.What talent!
Check back for more highlights of the design shows and San Fran touristing.