A fabulous Valentine gift is not just one item – like roses – but a package. Something that shows that time and thought and planning have come together for a personal and heartfelt gift.
This Valentine's Day, we have brought in hand-made greeting cards created by local artist Jane Mullis, of Missing Piece Mosaics. These are sweet drawings with simple text. Here's a card suitable for a girl to give a guy: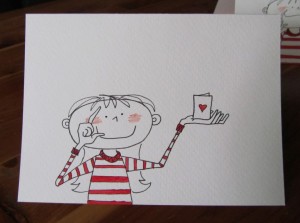 Is that an "L" for "love" she's signalling?
Now here's the card for guys to give girls: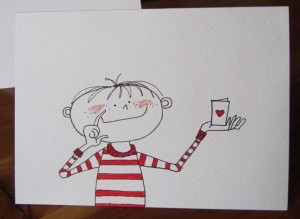 How cute is that?
Now take a look at the sheep on this card: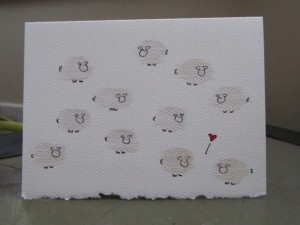 In the midst of the flock, two cute sheep have found each other:)
Whimsical, aren't they?
We also carry quite a variety of other cards, so you can begin your planning for Valentine's Day certain that Martin's can pull the whole gift together for you.