June is the month of roses. Every garden with a rosebush is bursting with colour and fragrance.
Roses have been a preferred flower for centuries. Shakespeare, Browning, the Bronte sisters and many others found wisdom in considering the rose. Consider these quotes:
Loveliest of lovely things are they
On earth that soonest pass away.
The rose that lives its little hour
Is prized beyond the sculptured flower.
Woo on, with odour wooing me,
Faint rose with fading core;
For God's rose-thought, that blooms in thee,
Will bloom forevermore.
Roses of course symbolize love. That's why millions are sold on Valentine's Day around the world.
And I will make thee beds of roses,
And a thousand fragrant posies.
Christopher Marlowe, The Passionate Shepherd to his Love, Stanza 3. Said to be written by Shakespeare and Marlowe.
The sweetest flower that blows,
I give you as we part
For you it is a rose
For me it is my heart.
Frederic Peterson—At Parting.
Did you know that roses do not have thorns, but actually
prickles
?
Wikipedia
says so, so it must be true! Whatever the name, they sure do hurt. Florists who handle roses usually have some injuries on their hands, or tiny little
prickles
embedded under their skin.
Our supplier of roses brought in extra this week and we have been marvelling at the shades of colour and fragrance that they have. Of course, we can't just sit and gaze at them – we are in business, after all. So we have put two kinds of roses on sale for this week.
Here is the first.
This is Rose Medley, on sale for $39.95. There will be an assortment of 3 or 4 colours of roses in the arrangement, one dozen roses in all, with salal leaves for a clean and simple look. The cube vase is a nice modern shape.
Here is our other special:
Spray roses are like the sweetheart roses we used to know, only there are three or four blooms per stem. We use them for wedding bouquets, corsages and arrangements but they are lovely just on their own. Look at this selection of colours: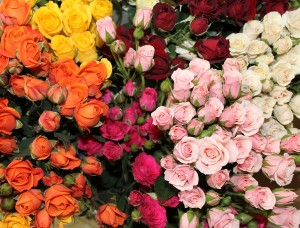 The sale this week is Super Special Spray Roses. The price is $29.95, and they'll only be available for a few days. You should call us now!