One aspect of our business is creating fresh flower arrangements for corporate offices. Normally, they are replaced every Monday or Tuesday, so the office has a fresh look for the week.
Here is one arrangement we delivered yesterday to an office in West Toronto: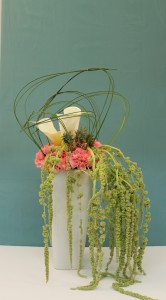 This is a lovely design with white roses, green hanging amaranthus and pink carnations. Elegant white callas are accented with loops of bear grass. But there's more! Now look a little closer and see the surprise: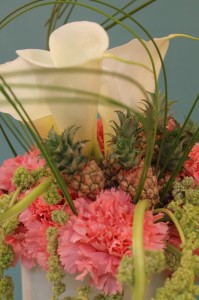 Those are tiny little pineapples nestled under the callas. That should be a conversation starter at the office!
If you're interested in flowers for your office, give us a call to discuss your options. Most of our corporate weekly orders are charged only for the flowers and design time, not the container. When our driver delivers fresh flowers, she picks up the old arrangement and returns it to the shop. It's convenient and reliable, and it's an easy way to make an office look more upscale.
Another benefit is that the designs will always change, reflecting the seasons and being an object of interest in the lobby or reception area every week.  Your budget for this service would be from $200 – $300 per month. Why not give it some thought?