We had an exciting opportunity recently to create arrangements for the new Living Shangri-La Toronto residences.
This is a new Hotel and Residence at 180 University Avenue in Toronto. Close to the Theatre District and the Financial District, and with absolutely amazing views of the city, it is the pinnacle of luxurious living.
Working with Julia Bray of Inform Interiors of Vancouver, we helped select everlasting flowers for their high-style containers, and designed contemporary arrangements for the washrooms.
Here is a photo of the Master ensuite washroom, with its polished marble and Italian-crafted wood vanity. This composite arrangement creates a beautiful accent for this room: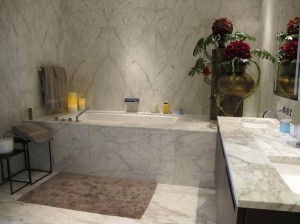 The taller arrangement is about five feet tall. The metal vessels were hand-crafted in India, and imported from the  Tom Dixon showroom in Brooklyn, NY. We used red cymbidium orchids and hydrangea, philodendron leaves and other faux flowers. Our Head Designer, Susan Wetheral, CAFA, skillfully designed all these elements into unique arrangements.
Here is another photo: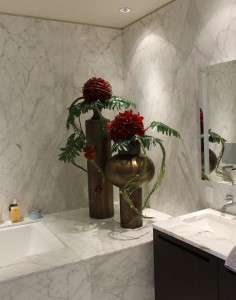 Susan also designed another composite arrangement for the powder room, near the suite entrance. Keeping the deep red/burgundy tones, she used the hydrangea and orchids with artificial succulents, vine and dramatic deep green caladium leaves. These arrangements are in slate gray ceramics.
Here's the powder room:
Amazing how the gray veins in the marble and the intense colour of the walls are enhanced by these arrangements!
The real star of this building is the view. Here you can see the gorgeous view of Toronto from the 51st floor balcony: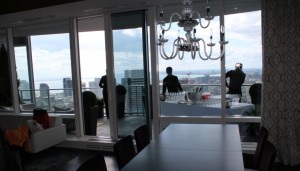 Preparations for a party were being made when we took this photo from inside the suite. Can you imagine eating gourmet bites, sipping wine and watching the lights come on below you at this beautiful spot?
Finally, here's  a shout-out to Susan, the designer who created these arrangements! Here she is with the two Tom Dixon vases: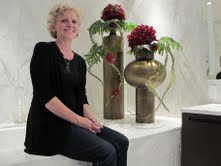 Finally sitting down after all that work!