It's the time of year when it feels like spring will never get here – well I guess that is true for January, February, March and April – but here it is, March, and we've been teased by the weather enough to think that spring may actually arrive soon.
And now Ice Cream Junction is getting ready to open:)
Our designers decided to make a fanciful garden display for March. They started with some cute bunnies. Then along came the fence. Shades of Peter Rabbit! Those bunnies can't resist a challenge. Will they hop under the fence and steal the Community Garden carrots?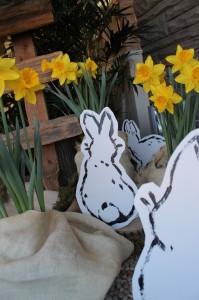 Oh dear, they could not resist! Must be those spring daffodils making them feel invincible.
There's a squirrel on the loose, running around the forest wreath.
Everybody's getting frisky! Spring must be coming soon.