Administrative Professionals week will be April 22-27 this year.
Formerly known as Secretaries Week, this holiday honours the ones who check the details, dot the I's and keep the calendars coordinated. Some offices celebrate the week, others just the day – Wednesday, April 24th.
Here are a few suggestions to make your office a happier place for all.
Something new this year is our collection of  bottle bud vases. These are a random assortment of colours and shapes, with pretty flowers inserted.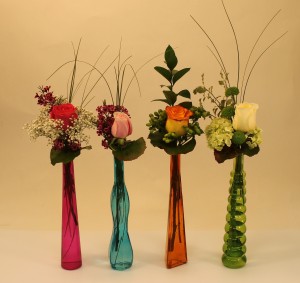 Here's a closer look at two of them: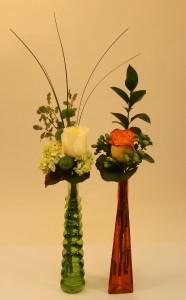 At a price of $25 each, these are a great way to acknowledge every person on the team!
Now for another bud vase idea: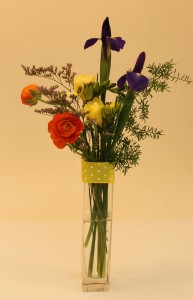 This is a clear glass square bud vase with bright spring flowers. As shown, it is priced at $30.
An alternate idea is to have one large arrangement in the lobby in honour of all the staff. (It wouldn't be a bad idea to have a box of chocolates with that.)
For executive assistants, something tasteful and impressive would demonstrate their value to the company. Maybe something like Rainbow Collection #1 or Vogue #1.
Since these are all designed in vases, the recipients will have something to keep. They can add fresh flowers all year round, to keep their work area a little prettier. A pretty office is a happy office:)