Making wedding flowers is a highlight of floral design. Working with a bride who loves flowers is a treat, and working with a young lady who we already know and love is even more special. (Caroline helps us out occasionally in the shop at Mothers Day or Christmas.)
Today we're featuring the wedding of Caroline and Steve. This was a sweet and happy day, and we hope the flowers enhanced that joyous feeling.
The following photos were taken by Wee Three Sparrows Photography. Rebecca Wagler is an experienced photographer with a wonderful eye – as you will see!
Let's start with some fun shots of the Bride and her Flower Girls.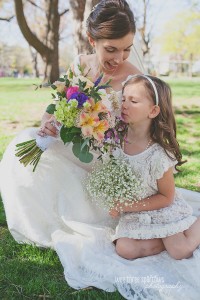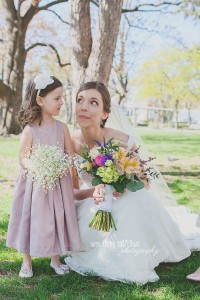 The girls were absolutely charming with their babies' breath bouquets and pretty dresses.
Now photos of the Bride's bouquet!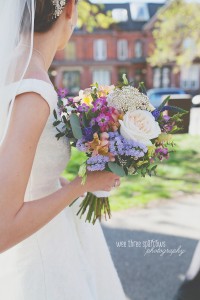 Love the perspective in this shot!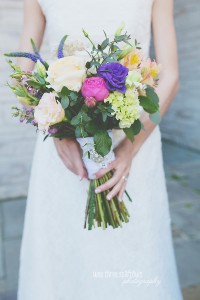 This one is so pretty!
When Katie designed the bouquet, she loved it so much she wanted to keep it for herself:)
Caroline wanted a simple, sweet, informal bouquet. We included peonies, garden roses, veronica, lysianthus, hydrangea, alstroemeria and eucalyptus greens for lots of texture and variety. The bouquet was a hand-tied style, wrapped with lace and a brooch supplied by the bride.
Here are the bridesmaids with their bouquets: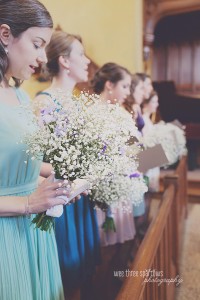 Fluffy "Overtime" gypsophila was bound and wrapped with lace. Just a touch of mauve and purple statice in the bouquets picked up the colours in their dresses.
The gentlemen's boutonnieres co-ordinated with the ladies' bouquets.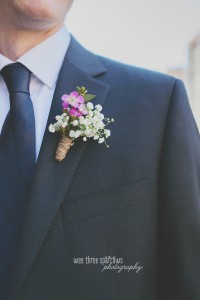 The groom, above, and the groomsmen, below.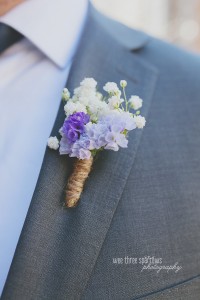 Love the twine around the stems!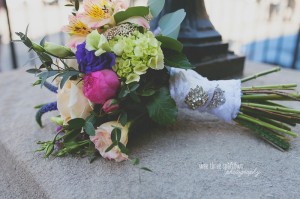 We just had to put another shot of the Bride's bouquet here as well. Beautifully photographed!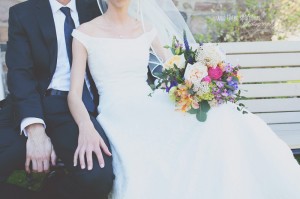 Finally, the Bride and Groom together, starting off married life with prayer, encouragement and love in a day that was filled with beauty. We wish them many years of blessing.
For more on Wee Three Sparrows, check out their Facebook page as well.