Time to show you our latest window display!
Katie started off by picking up some bicycle tires from The Bike Place across the street. She spray painted them a shiny bright red, then suspended them in the window. All this was to display our newest air plants. Here's how it looks: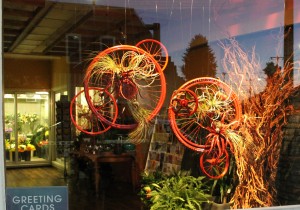 And from another angle: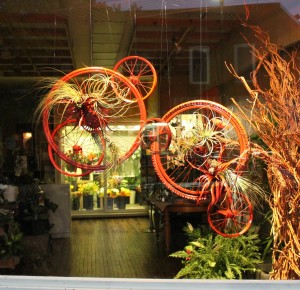 When we take photos at night, there is less glare on the glass. Now let's have a look at the display in daylight.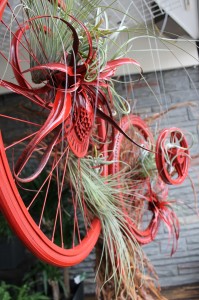 Air plants (Tillandsia) require no soil. They are epiphytes, meaning that their leaves collect moisture and nutrients through the air. They use other plants or structures for support. In this case, bicycle wheels! We mist them every few days and they seem to be thriving in their unusual habitat.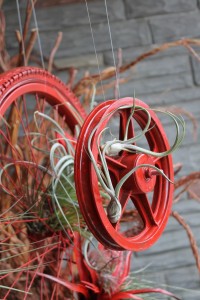 There is something exotic and strange about these plants – they evoke the rainforest, and remind us of the incredible variety of life on this planet.
One bonus with this display is that it's so ripe for puns. Like, it's a wheelie nice window!