We have shown you some of our creative floral arrangements for funerals before, like this construction crew's tribute and this Maltese Cross.
Now we'd like to update you with some photos of our recent sympathy arrangements.
The first is quite touching. The deceased gentleman was a Leafs fan, so his family wanted a Toronto Maple Leafs jersey made out of flowers. We used over 200 carnations and white chrysanthemums. The jersey was about 33″ by 33″ overall. Here is the photo: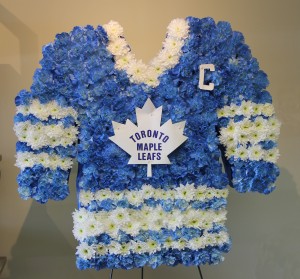 A nice touch was the "C" for Captain. Our friends from B & T Signs at 3089 Dundas printed the logo. And a custom message was printed on the ribbon and added to the arrangement later.
Our next shot is of a casket spray of about 50 red roses with babies' breath. There is something pure and eloquent about this simple design.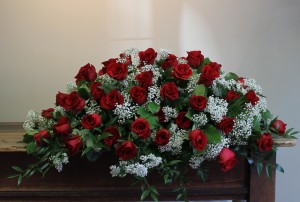 After so many years of marriage, a wife pays tribute to her husband with this expression of love.