Bill and Marion's children, Lynn, Debbie, Carol, Jane and Paul all worked at the family business growing up. Bill worked long hours, six days a week, so coming to the shop on Saturdays and during busy seasons gave us a chance to spend time with him. We each learned valuable lessons: how to work hard even when you're exhausted, how to smile through adversity, how to comfort the bereaved, how to respect and handle the material you work with, how to be an entrepreneur, how to help and encourage others.
For ten years or so,  we sent out mass mailings for Christmas and Mother's Day. Assorted family and friends would assemble for a two day marathon of stuffing envelopes and sticking on address labels. Writing about the business's history is a lot like writing about the family's history.
I started working here in 1975, taking some time off to raise my sons Ryan and Julian, then working full time. After about twenty years, Dad decided that I was ready to take over.
Here's the family at the shop in 2006 – Bill and Marion, Lynn, Ryan, Janis and Wesley.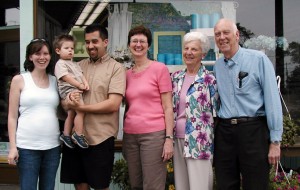 In 2008, we celebrated our 110th anniversary. Julian and his wife, Stacey posed with their 1898-style costumes.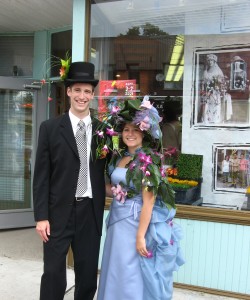 The shop is still located at 3107 Dundas St. W., in the same building (there have been many additions and changes over the years).
We feel it is important to keep our core values of integrity, reliability, quality product and good value. Our design staff, led by Susan Wetheral, CAFA, seek to create floral arrangements that are beautiful, fresh and stylish. Floral design is always evolving with new techniques and fashions. Susan and the team find their inspiration in nature, architecture, art, pop culture and music. The flower business has changed, with online shopping, order gatherers and alternate sources for consumers, but skilled human hands and minds are still required to create beautiful designs to suit the occasion. That's the key.
Whether it's a birthday, wedding, new baby, illness, funeral, romance or just "thinking of you," Martin's is there for the memorable times in people's lives. We will help you celebrate, encourage, comfort, support and beautify your special moments.
As we celebrate 115 years, we thank all our faithful customers, some in the fourth or fifth generation of their families, who continue to trust us. We look forward to many more years of serving you!