Our story continues with the next generation of Martins. Bill took over the shop in 1950 after the death of his father. He carried on the tradition of cute live animals in the shop window, and even tried a monkey in a cage. A monkey's not as exciting as you might think – it bit Bill when he tried to feed it. Then it got out of the cage and made a dash out the front door, never to return. Bunnies, chicks and goslings were a safer alternative. Fortunately, Bill had married Marion Cook, who came from a farming family, so there was somewhere to send the animals when they were no longer cute and fluffy.
Bill's mother, Mamie, answered the telephone and did the bookkeeping. She would have to keep track of hand-written, carbon-copied invoices and send out reminder statements at the end of each month. Bill always laughed, saying that you could tell she was typing "This invoice is past due – payment is due immediately!" by the vigour of the typing in the office.
Some of the highlights of Bill's career involved working on huge projects as part of a team of florists. He arranged for various flower shops to make up displays for the Canadian National Exhibition (CNE) and Royal Winter Fair (RWF). Bill was instrumental in keeping Toronto florists connecting with each other and working together, first through the Toronto Florists Alliance, then the Toronto Chapter of Flowers Canada. It was natural for him to see the benefits of a nationwide alliance of floral industry partners, and he was one of the founding members of Flowers Canada in 1965. He attended every one of their annual meetings until 2003.
Another huge project for Toronto florists was the dedication of the Princess Margaret Fountain on the CNE grounds. The florists draped thousands of flowers to look like water cascading from the fountain. Princess Margaret herself arrived and stepped out onto the red carpet to the cheers of hundreds of people including quite a few florists.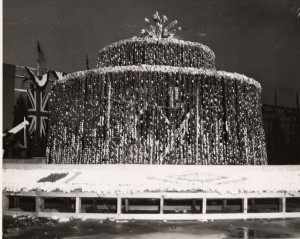 In 1982, Martin's won the contract to create floral arrangements for the International Monetary Fund meetings. They decorated Roy Thomson Hall with flowers in the lobby and on the stage. One arrangement had to be adjusted because Prime Minister Trudeau would look like he had gladioli growing out of his head when the cameras recorded his speech.
The Toronto Florists Alliance proclaimed "Flower Week" every September. Tommy Thompson of Parks & Recreation was honoured with a floral throne and sceptre one year. In this photo, we're not sure of the name of the lady being honoured.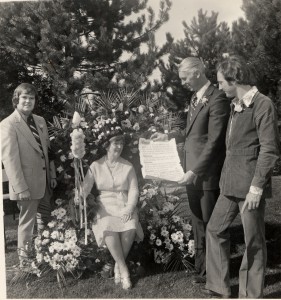 When Sherway Gardens opened in 1971, Bill partnered with Nick Lye of Tidy's Flowers in one of the first ever indoor mall flower shops. There was a kiosk of plants and a store with a refrigerator, display area and tiny little design/office space. Lorraine Smart was the first manager of the shop. Bill's daughters Jane and Carol ran the business from 1981 until its closing in 1988.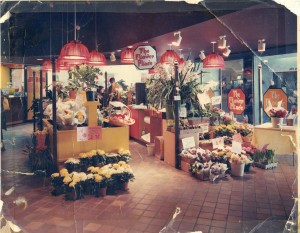 Techniques of floral design changed significantly in this period. In the early days, a pot would be filled with rolled-up cedar branches, and the flowers were inserted through them. Bill used to mix up vermiculite and some green powder with water and pour it into paper mache funeral containers to harden up before making designs. The invention of Oasis foam was a boon to florists in the late 1960's. There was so much more freedom to design the flowers in creative ways and still make sure they were secure and in water. Floral preservatives made their way into shops around this time. Now we call it Flower Food, as the emphasis is on nutrition for the flowers to let them live as long as possible.
In the early 1970's, Columbian farmers began to grow carnations. Their costs were so much lower that even with the cost of shipping, the carnations were cheaper than those produced in expensively heated greenhouses in Canada. This was the beginning of globalization for the flower industry. The Ontario farmers tried to fight back by organizing themselves as the Ontario Flower Growers Co-Operative, and built a "Dutch clock" auction in Mississauga in 1972. Growers would bring their product to this central depot to sell to the highest bidder. Bill was a big fan of "The Clock." He would buy lots of flowers and plants and send most of them off to the Sherway store, and the staff would have to cram them into their displays somehow.
In the 1980's florists were looking to Europe for design inspiration. Bill brought a designer named Petra from Holland to work with the staff for a year. She became a teacher and dear friend to all. The first time she cut a long-stemmed rose down to a 3-inch stem, we nearly fainted from shock!
Bill was always learning new techniques in flower design, care and handling of flowers,  and marketing. He grew the business substantially over his 45 year tenure. There were Christmas Open Houses and direct mail campaigns, and computer systems that were huge and expensive. Here's a photo of Bill promoting flowers for the Christmas office party.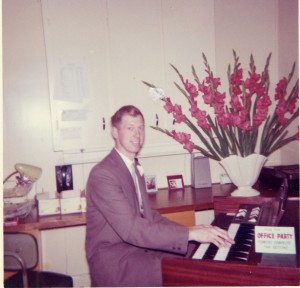 Here is Bill, Marion and daughter Lynn with two staff members (Veronica and Charlie) accepting an award from Teleflora probably from the late 1980's.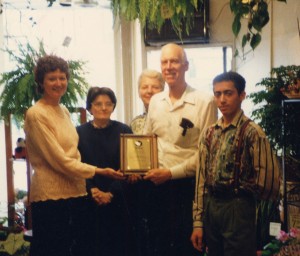 Bill retired in 1996, and passed away in 2007. His daughter Lynn took over the shop, and her story will be our next instalment.