It turns out that 115 years of family and business history doesn't fit neatly into one blog post. So today in our second instalment, we'll look at Gordon, the person who gave our business its official name: Gordon W. Martin Florists Limited.
Gordon was born in 1898, the same year our property was purchased. In 1924, he crashed his motorcycle at Keele &  Humberside and broke his neck. He managed to survive and fully recover (family legend is that he was the first person to do so). While in the hospital, he met a volunteer, a young Scottish lady named Mamie  Gray (Jemima was her official name, but that was only used on legal documents). They were married in 1925 and had three children – William (Bill), Margaret and Mary Jean. Here's a picture of their wedding. Love the "shower bouquet" she carried!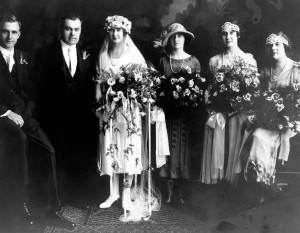 Gordon Martin was a bit of a showman. When the flower shop opened in its new building in 1929, he hired a brass band to play in the store window! Gordon felt that it was important to have something interesting in the window display. Preferably something cute and cuddly and moving… like bunnies or chicks. We hear many stories of people growing up in the 1940's and 1950's who would come with their families to shop in the Junction, and they would always check out what was new in the Martin's window. There was a time when he even dyed the chicks pink and blue and sold them to parents as Easter gifts.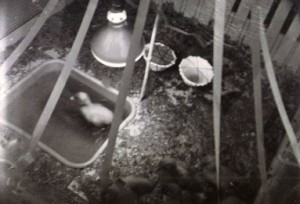 The kids in the neighbourhood called Gordon "The Mayor of the Lane" because he liked to organize barbecues in the back lane (it was more open then). Claude McGilvray, whose father owned a shop a few doors down, remembered being allowed to ride horses up and down the back lane as a child. He was also allowed to deliver flowers around the neighbourhood with his wagon and his dog, Ponto. Gordon was a sociable man and generous with children, and he often had a collection of friends in the shop playing cards when there were no orders to fill.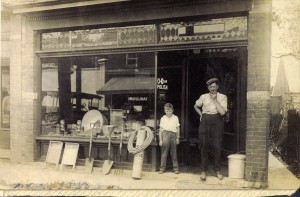 The flower shop of the 1930's relied on locally grown flowers. Alfred and Gordon had a cottage property in Port Credit where they grew some summer blooms. Charlie Tizzard leased property in the hydro right-of-way near Royal York Road and the Queensway. He grew a variety of flowers and plants such as gladiolas and chrysanthemums and sold them to flower shops in the area.
Alfred passed away in 1948, and Mamie and Gordon became ill the next year. Mamie recovered, but Gordon died of a stroke in 1950. Their son Bill was preparing to study Landscape Architecture at the University of Guelph, but now he had to support his mother and sisters, so he returned to the flower shop. And we'll pick up Bill's story in the next instalment.