How nice it is to take some time to think about the one you love. We tend to take for granted the people who mean the most to us. Now Cupid is back poking us with his cute little arrow, reminding us to show some appreciation!
Flowers are one of the top choices for gift giving at Valentines. Here, we'll have lots of roses (about six times as many as any other week). Roses in long, medium, short… red, pink, yellow, mauve, white… in 3's, 6's and dozens… roses in vases, roses in boxes, roses in cellophane… you have a lot of choice here! And beyond the roses, we are carrying locally-grown tulips, gerberas, iris and daisies. And some fun imports like ranunculus, hydrangea, stocks, birds of paradise, orchids and on and on.
Here is a pretty, feminine arrangement of roses, ranunculus, carnations and hydrangea. The vase is wrapped in lace with a satin bow. We named this one "Lovely Lady."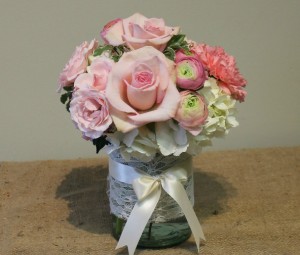 For the romantic who wants nothing but red roses, start by clicking on our Valentine catalogue page. There you can see traditional vases of 6, 12, 18 and 24 roses. Something different is this new design, called "Gems and Roses." There is a keepsake bracelet on the vase. And there are 7 roses in this one!