The calendar turns a page, and May finally arrives… and Mothers' Day is around the corner!
If you are one of our regular customers, you should have received our Spring & Summer 2014 flyer in the mail. If not, you can see our newest designs in the Mothers Day catalogue of our web site. We're going to take a few days to look at these designs in a little more depth than the catalogue can provide.
Mothers come in all shapes, sizes and ages. They have different interests and personalities. So we don't suggest one arrangement for every mother in Toronto. We have chosen four different looks to appeal to different ladies.
We'll begin our Mothers' Day survey with Gentle Wishes.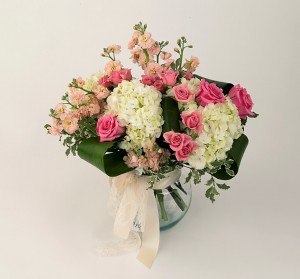 This is a classic Mothers' Day look with roses and hydrangeas in pink and cream. But we have updated it with peach stocks and New Zealand variegated pittosporum, and rolled aspidistra leaves. There are "Ballet" large roses and "Majolika" spray roses, and the stocks have a wonderful fragrance. The arrangement is created in the designer's hand, then placed in a vase made of recycled glass. Some vintage-looking satin and lace ribbons are wrapped around the vase.
This design is $125 as shown, and a deluxe version is $175. The arrangement is 18″ tall, and 17″ wide.
If you like this soft and pretty look, but want something a little smaller, have a look at Dainty Lace: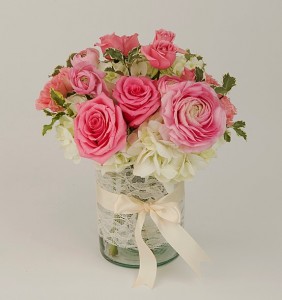 Those really are pink ranunculus (ranunculii?) in the photo! We've arranged them with a white hydrangea, light pink spray roses, pink carnations and Ballet roses. Once again, there are pretty lace and satin ribbons wrapped around a recycled glass vase.
This design is $70 as shown. It measures 11″ high and 9″ wide.
If soft and feminine is your Mom's style, one of these would be a great choice for her!