We will celebrate Administrative Professionals on Wednesday, April 23, 2014.
Let's take time to acknowledge the men and women who keep the bosses on track! Taking the administrative burden from the vision-caster is an important responsibility. One day a year is set aside to recognize that.
What are we suggesting this year for Administrative Professionals?
Let's start with something mid-range. How about a little Joy?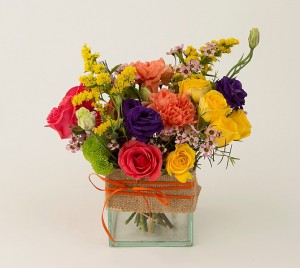 We just love the look of this – like a hand picked selection of garden blooms casually arranged in a cube vase. The burlap ribbon and orange tie give it a rustic feeling. This is sure to brighten the eyes of anyone in Toronto who has lived through this past winter!
For an Executive Assistant, perhaps something more substantial. Here is one of our new designs, called Radiant Beauty.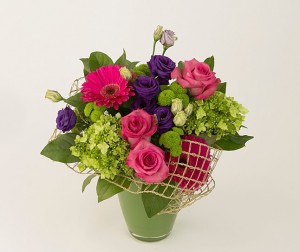 This is a bright green Polish glass vase, with roses, hydrangea, lysianthus, gerbera and green button mums. Elegant indeed!
If you have a number of employees, multiple gifts are a nice idea. Call and ask us about bud vases for every desk (ranging from $15 – $40 each) or perhaps small plants, like mini daffodils or peace lilies.
Studies show that flowers and plants make people more cheerful and calm. Wouldn't you like your office to have those qualities?