Almost every little girl falls in love with The Secret Garden growing up. Its story of healing and growth through nature is one we can identify with.
Our designers tried to capture the beauty of a neglected garden in this arrangement, aptly named Secret Garden: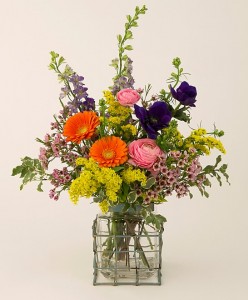 We started with a unique container. There is a square, heavy glass vase with a metal grid lid. It is placed inside a metal grid that matches the lid (this is starting to sound like Dr. Suess!). It's a nice, rustic, country look. Now into this vase, we place a selection of flowers that look like bright flowers growing in the meadow or a garden gone wild. We've used ranunculus, anenome, solidgo, waxflower, miniature gerbera and larkspur. They are loosely and artfully designed for a casual look.
As shown, Secret Garden is priced at $85, and measures 17″ high by 16″ wide. There is also a deluxe option in the same container, with more flowers, for $120.
Maybe it's the long winter, but seeing this next arrangement made me so happy I had to name it Joy!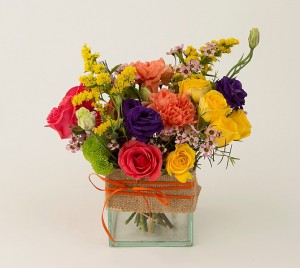 Here again we have carefully chosen colours and flowers to mimic a not-so-well-tended garden. This bright and happy arrangement is made up of spray roses, lysianthus, waxflower, statice, solidago, button chrysanthemums and carnations. It's placed in a cube-shaped glass vase. Our designers have wrapped the vase in burlap ribbon and tied it off with orange satin ribbon.
Joy is priced at $60 as shown, and measures 10″ high by 10″ wide. A deluxe version is made in a larger cube vase with more flowers, and is priced at $85.