Some people just love yellow. Some people especially love yellow after a long, gray winter.
We've taken that longing for the sun, and interpreted it through these two floral arrangements.
First, we have Solar Flair: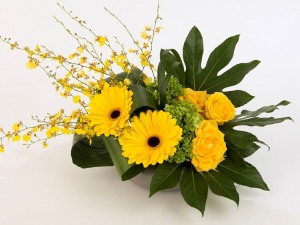 It's a little hard to see in the photo, but this is designed in a smooth beige ceramic bowl that's sure to be treasured. Our designers chose aralia and aspidistra leaves to give the design its structure, then added fabulous yellow roses and yellow gerbera, and airy oncydium orchids. Just two fluffy, green mini hydrangea in the centre enhance the look.
I'll bet every driver who delivers this bouquet will get a bright smile in return!
Solar Flair is priced at $85, and measures 15″ tall by 19″ wide. The deluxe option is in the same bowl, with more flowers, and sells for $125.
Here's the partner in our solar duo: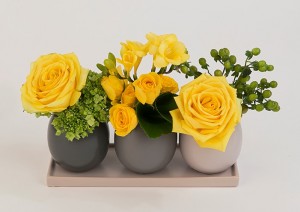 A ceramic tray holds a trio of small vases. Our bold yellows are roses, freesia and spray roses, and green hypericum, galax greens and a green mini hydrangea provide a neutral foil to the yellows. Picture this on a window sill or in the centre of a small dining table. So pretty!
Grace is priced at $60, and measures 7″ tall by 13″ wide.
You know someone who would love one of these:)