It's our anniversary! We have been told that Alfred Martin and his wife purchased this property in 1898. And here we are, the same family in the same place, 115 years later.
Here's a look at the greenhouses that were built by "Alfie" and family. They were market gardeners, growing a little rhubarb, some bedding plants for spring and other small crops.
There were wooden sidewalks on Dundas, and horses still pulled carriages. You had to step down from the sidewalk into the greenhouse entrance. We have two photos of workers inside the greenhouses, but unfortunately we don't know who they are.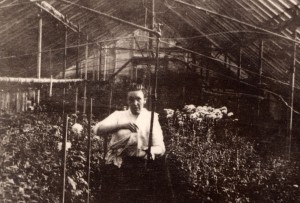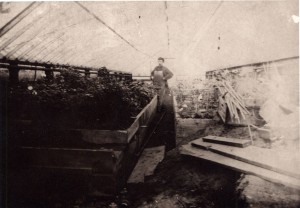 Alfred also bought the property next door to us and built a shop. They ran it as a variety shop for a few years, then sold it. Here's a photo. We actually still have one of these tables, and our designers are using it for displays in the shop today – although there are no doilies in our current display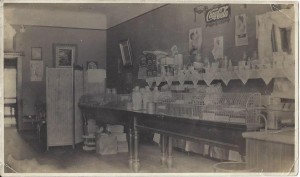 And here we have the patriarch, Alfie Martin:
Alfred came to the Junction in 1890, as a young farmer from Brampton ready to make his mark on the world. His first job was at George Robinson's bakery.  A year later, he opened Betts and Martin Bakers at Dundas & Pacific. He and his wife Mary Elizabeth bought and sold properties in the area during those boom times, and in 1898 they purchased a couple of bargain properties on Dundas Street and Clendenan Avenue as a result of the "tax sale." (The Junction city council sold 1,800 lots that were in arrears for taxes. Most had been speculative purchases. When the value of the properties in Toronto went down, landowners could not sell them to recover their investments and could not pay their property taxes. So ownership reverted to the city.)
Alfie was a tall thin man who walked with a slight limp and seemed to be leaning into the wind. He looked stern, but had a great sense of humour. He and Mary had two children: Gordon and Ethel.
We'll do Gordon's story in our next installment.